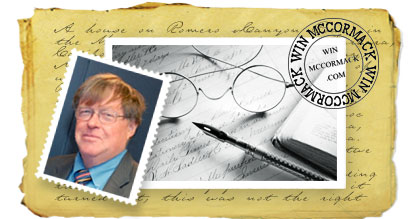 Win McCormack is publisher and editor-in-chief of Tin House magazine and Tin House Books. He was educated at Phillips Academy, Andover, Harvard College and the University of Oregon. He holds an AB from Harvard in Government and an MFA from the University of Oregon. In 1962, he had the honor of being an American Field Service exchange student in Indonesia.
McCormack published Oregon Magazine (called the Oregon Times and Oregon Times Magazine before it assumed that title) from 1976-1988, and has been an owner and Treasurer of MediAmerica, Inc. (publisher of Oregon Business, Oregon Home, and Travel Oregon magazines) since 1984. He serves on the board of directors of The Center for the Study of Democratic Institutions (where he held a Junior Fellowship in 1969), which publishes NPQ (New Perspectives Quarterly). He has also been involved in publishing Military History Quarterly and Art and Auction magazines, and is a member of The Nation magazine's Circle of 100 supporters. He is the author of The Rajneesh Chronicles (New Oregon Publishers, 1987), and won a special joint William Allen White Commendation from the University of Kansas and the City and Regional Magazine Association for his investigative coverage of the Rajneesh cult in Oregon from 1983-1986. His article "The Dichotomy of Evil: The Manson Girl Who Got Away," in the Spring 2007 issue of Tin House, explores the antinomies of guilt and innocence in leaders and followers of destructive cults.
McCormack is also a political activist, and was Chair of the Oregon Steering Committee for Gary Hart's presidential campaign in 1984. He is Chair of the Oregon Democratic Party's President's Council, a member of the Obama for President Oregon Finance Committee and an Alternate Delegate to the 2008 Democratic National Convention in Denver. He writes on politics and social issues, and has written for Oregon Magazine, Tin House, The Oregonian, and Oregon Humanities magazine, and wrote the cover story about the 2000 presidential election in Florida for the March 26, 2001 issue of The Nation entitled "Deconstructing the Election: Foucault, Derrida and GOP Strategy." His recent writings include the article "The End of Democracy?" in the special politics issue of Tin House (Fall 2008).
He serves on the Oregon Council for the Humanities and the Oregon Tourism Commission and on the Board of Overseers of Emerson College, and is a co-founder of the Liberty Hill Foundation in Los Angeles.